Microanalytics is created and hosted in the EU, powered by renewable energy
Sustainability lies at the heart of everything we do. Our server is hosted with OVH and located in a green-powered data center in France. We're checked by the Green Web Foundation, a respected non-profit organisation that assesses the environmental impact of websites to create a more sustainable web.
With a script weighing less than 1 KB - 50 times smaller than the Google Analytics Global Site Tag - Microanalytics reduces your page size by around 47kb for every visitor. And while it doesn't sound like much, at scale it makes a big difference: if you have, say, 100,000 visitors a month, that's more than 50GB less data transferred per year.
According to the Website Carbon Calculator, every gigabyte of data transfer uses 1.8kWh (kilowatt-hours) of energy. That equates to 475g of CO2 emissions for every kWh - meaning a website with 100,000 visitors can save more than 46kg of CO2 each year.
Microanalytics.io is hosted Green and is checked by thegreenwebfoundation.org.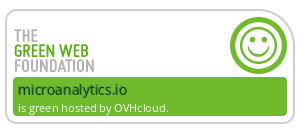 Certifications
Microanalytics.io is hosted on servers in EU with certifications:
ISO 27001:2005 - operate dedicated cloud computing infrastructures.
ISO 27002 and ISO 27005 - security management and risk assessment norms and associated processes.
SOC 1 and 2 type II certifications for data-center in France.